© Pinterest
2019 promises to be rich in new events. The trend is towards "green", digital but also interactive and playful experiences. Our experts invite you to discover the trendy places of this new year.
The green event, a concept that is on the rise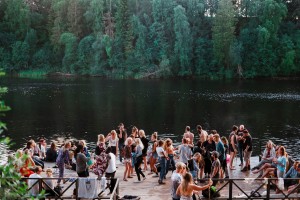 At a time of eco-responsible commitments made by many companies, more and more events are turning to a low-consumption organization. In 2019, more than ever, we favor places focused on sustainable development, both in terms of their layout and the activities they offer. Thus, it can for example be a zero waste place where each material and equipment is made from recycled elements, a restaurant offering organic products and/or favoring the short circuit or even a space workshop focused on eco-concepts. And to initiate a 100% green approach, you can also choose to organize your event in the heart of nature, in a space that is both original and sustainable. Eco-cabin, yurt, bubble: many service providers offer unusual accommodation that will undoubtedly arouse the curiosity of your employees, without losing comfort.
Need help choosing one of these eco-responsible places? Our event specialists can bring you their expertise in this area!
Places dedicated to "gaming"
These last years,
we have witnessed a notable development of fun spaces dedicated to companies, in particular through the concept of escape games (a themed course where participants must solve different puzzles and get out in a given time). There are now all kinds of interactive and fun places in different formats (serious game, escape game, participatory animations, etc.). The goal is to establish a team-building strategy within his company in order to involve each of his employees in a group strategy, in a fun and offbeat way.
In view of the large number of places offering this type of activity in 2019, do not hesitate to contact the Autentik Events team to make your choice and select the format best suited to your expectations.
Places focused on new technologies
As in the previous year, new technologies are among the key criteria when it comes to finding a trendy location for your event. In addition to digital events, which are the subject of a completely different chapter, there are more and more events based on new technology concepts. From the mechanization of the changing rooms to the speaker in the form of a hologram, through sensory experiences: everything is designed to simplify the organization of the event, but also to make it more intuitive and immersive. Your employees will undoubtedly have the impression of integrating a fairly futuristic and intelligent universe, which can be an excellent way to get out of the traditional working environment and favor new experiences for your employees.
Once again, our event experts can direct you to the best high-tech events in 2019!
Want more information on the latest event trends in 2019? We can provide you with precise information on current developments in the field, and organize an event that suits your business.