Are you planning to organize a corporate event to revitalize your team or to reward your best customers? You wish to organize a lunch or a corporate dinner for your partners? Think of organizing your business events in a restaurant. This choice will give you multiple advantages.
Your business events in the restaurant: an easy installation
For an incentive, a seminar or for a business meeting or meal, the restaurant offers a major advantage: the ease of installation. It is easy to find a restaurant that has enough seats and tables that you can arrange as you wish. You will no longer have to worry about transporting tents or tables and other furniture. More and more restaurants are now offering specific services for companies. You will be able to use a sound system, a video projector and other equipment necessary for your business event. In addition, the establishments have experience in welcoming guests.
A vast choice of themes and decor for your corporate event
For your business and professional events, a restaurant takes you away from the usual company setting. In addition, there are many addresses that focus on the originality of their concept, their exotic setting or their standing. Treat yourself to the prestige of a gourmet restaurant and the signature of a well-known or yet-to-be-discovered chef. Go on a culinary journey through France and the world by choosing a specialty restaurant. Between Breton, Basque, Portuguese, Hawaiian or Japanese cuisine, choose your gourmet destination.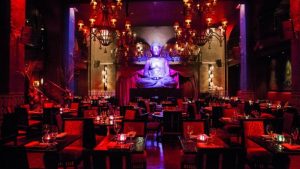 For a meeting with your partners or a meeting with your customers, prefer a sober and formal setting. The elegance of a historical brewery or a castle will bring a touch of cachet to this type of organization. To reward or motivate your employees, dare to use an original or unusual setting to make a lasting impression. A cabaret, a moored barge or even an old chapel are excellent places to meet.
Finding the right formula for your business events
One of the major advantages of the restaurant is the possibility to choose the formula adapted to your needs, your expectations, your budget… Cold buffet, served at the table, cocktail, adapt the way of serving the dishes to the type of event you organize. For a meeting between employees and managers, a cocktail party at the end of the afternoon or a cocktail reception will allow to cultivate conviviality. For a team building, prefer workshops. Fun and instructive, a culinary workshop promotes both creativity and team spirit. For your clients or partners, organize a lunch or a gala evening in a prestigious restaurant. The idea is to highlight your brand image through the business event .
With Autentik Events, find the venue that meets both your corporate objectives to make your event unforgettable.