The health crisis linked to the spread of Covid-19 has totally paralyzed the event. If the economic consequences are undeniable, this crisis is an opportunity for the sector to renew itself and make changes. Autentik Events helps you to decipher the changes that will take place to better prepare your next corporate events.
1. Increased digitalization and virtual events
Remote corporate events are still relevant, even after the long lockdown period. They allowed colleagues and collaborators to keep in touch and maintain their cohesion. Indeed, beyond telecommuting hours, many companies have been hosting webinars. In addition to these online seminars led by experts from different fields, there are virtual team building activities . For the post-Covid future, the strengthening of this digital sector will first of all make it possible to better cope with other identical situations. It will also provide enterprises with cost-effective solutions for remote sites.
2. Priority given to short circuits
The coronavirus has highlighted the importance of the short circuit in the life of a company. This advantage will certainly be transposed to the events sector as soon as deconfinement will allow professionals to schedule new dates. Already put into practice in the food and catering industry by favoring local or regional producers, the idea is to call upon service providers or craftsmen based in the city where the event is being organized. This may concern entertainment workers, artists, audio and video providers, etc.
3. The choice of an event on a human scale
While giant seminars and Silicon Valley-style keynotes will continue to exist, companies will prioritize human-sized events. For SMEs, the concept is obvious, but for larger organizations, a redesign of the organization may be necessary to encourage programs where each participant has the time and opportunity to discuss with the other. For major events, organizers can rely on satellite events and digital interactivity.
4. The implementation of a health protocol in the event industry
The risk of disease transmission has been demonstrated by Covid-19. Even at a lower rate of contagion, other conditions are now weighing on the event. In order to reduce the risk of contamination as much as possible, sanitary protocols will certainly be perpetuated during future events. In the short term, barrier measures must be put in place and the filling rate of the different places must be optimized. Bringing people together is only possible if all participants feel safe.
5. A new look at nature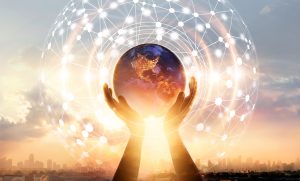 Through Covid-19, nature has demonstrated that it will inevitably react to abuse. The event industry must therefore trade the athropocentric model, i.e. focused solely on Man, for a more ecological and sustainable model that takes into account the fragility of the environment. While this vision must be shared by all companies, it is essential to the event industry because of its ability to bring people together and unite.