Winter is here, but it is not the end of the season for seminars and team building. It is an opportunity to warm up around a gourmet animation and other winter activities.
The mulled wine bar: a gourmet event with a festive spirit
For an event that is both gourmet and festive, consider the wine bar. The conviviality of this place of reunion is favourable to an informal meeting, far from the professional framework. The bar can be installed in a spacious place like a sports hall or a meeting room. A design with natural materials such as wood allows you to create a country decor. The expertise of an experienced bar tender is then useful to ensure the atmosphere and make the day or evening memorable for the participants. Something to forget the winter dreariness!
Raclette or fondue party to cultivate team cohesion
Who could resist a raclette or a fondue party? Reward your collaborators around a fondue or a raclette, an animation which will certainly remain engraved in the memories. Reproduce the authentic decoration of a mountain chalet. Select the best cheeses and other quality ingredients to make your gourmet event memorable.
Autentik Events can help you set up the perfect setting and culinary facilities to welcome your team in the best conditions.
The ski simulator: a perfect complement for a gourmet animation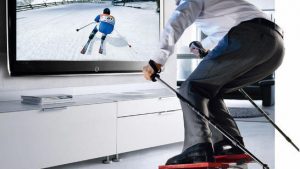 To emphasize the mountain spirit of your animation, think of a ski simulator. This high tech installation offers the opportunity to organize a mini-tournament. With the projection on the screen and the equipment on your feet, the sensations are incredible. For a slalom or a Super G, participants will be able to put their balance and precision to the test.
The ephemeral skating rink : slide to the rhythm of the music
In winter, many ephemeral ice rinks open their doors. Take the opportunity to organize a team building dance on the ice. With its 3000 square meters track surrounded by numerous tables, the
Grand Palais des Glaces
is the perfect place for this kind of event. Under the immense glass roof and the light of the projectors, reward the most beautiful figures, but also the most beautiful progress for the beginners.
A team building on a dog sled

Dog sledding is the preferred activity for incentive trips in the high mountains. It is accessible in all cities and regions where there is a good depth of snow. Go for a unique and unforgettable hike through the countryside adorned with its white coat. This escapade will allow everyone to better understand how to drive a sled. At the end of the course, set up a gourmet animation that will conclude the day on the best note. You can set up a wine bar or a gourmet spot for fondue and raclette.
Autentik Events teams will help you organize your corporate event, entirely customized to motivate your employees around an original animation.