The Old Continent is full of very attractive destinations to organize a corporate event, whether it is cultural, historical or recreational. Focus on three key destinations to realize your event in Europe.
Berlin, an atypical and versatile city
Berlin is undoubtedly the "off the beaten track" destination because the city is home to many unusual and atypical addresses. Ideal if you want to organize a seminar, a company party or an unusual team building activity.
The notable advantage of the German capital? Its versatility! You will be able to choose your neighborhood according to your objectives. In fact, if you would rather have a modern and relaxed atmosphere for your event, the Freidrichshain district will be your ally. It combines a monument to Berlin's underground culture, the Berlin Wall, with friendly establishments and charming neighborhoods with cobblestone streets.
On the other hand, if you want to give your event a more design and cultural touch, the Mitte district will be more appropriate. Home to many high-end boutiques and elegant buildings, it's time for refinement. Another advantage is that you will find many museums and historical monuments (GDR Museum, Jewish Museum of Berlin, Berlin Wall Memorial…).
Finally, for an unusual event, Kreuzberg is a great address. It is historically the most atypical district of Berlin, bastion of the famous Berlin cultural "squats" and of numerous bars and restaurants in an unusual setting (rooftops, gardens, old historical monument)…
As you can see, Berlin has a thousand and one faces and lends itself to all events! Our teams can help you find the best activities and places to go in the city.
Our Autentik Event tip: Berlin is never better explained than by its locals, who are familiar with its particular history marked by the ages. A guided tour "Berlin style" by one of its inhabitants will offer a very original perspective to your event.
Amsterdam, a most cultural destination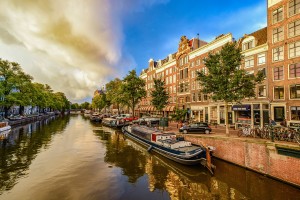 Amsterdam, the tourist jewel of the Netherlands, is a city known for its aesthetic architecture and its many cultural venues. Set on the waves, it combines its landscape between canals, museums, old bridges and old cafes. It is particularly recommended if you want to offer a real cultural immersion to your employees because the Dutch capital is home to many museums dedicated to famous painters, including the Rijksmuseum, Van Gogh or Rembrandt.
To add a little originality to this cultural visit, there's nothing like an original mode of transportation like the segway or, like the locals, the bicycle! And as the Venice of the North is full of historic districts, there is nothing like a treasure hunt to unite your teams and make them discover the city in a different way.
Prague, one of the most visited cities in the world
Prague is one of the most popular tourist destinations in Eastern Europe. As the city is an open-air museum, it is highly recommended that you hold most of your event outdoors, to enjoy its sumptuous architecture. In the Czech capital, there is no shortage of historical monuments: between the famous Charles Bridge, the Astronomical Clock, the sumptuous St. Vitus Cathedral, the city has mastered the mixture of genres, ranging from Baroque to Gothic through Art Nouveau.
In order to immerse yourself in its rich history, an outdoor escape game may be a good idea. You will travel through the ages, why not by reliving the career of famous artists or by reproducing a movie scene. Indeed, Prague has hosted many film shoots, including the cult Mission Impossible.
Note that if you wish to organize a festive event, the city is a real bastion for night owls of all kinds. From the most chic to the most convivial addresses, Prague has no shortage of possibilities.
As experts in event organization, Autentik Event is at your disposal to guide you in the organization of your corporate trip, whatever the destination you choose! Our watchword: custom-made.