New MICE destinations in Eastern Europe have emerged in recent years. Alongside traditional business destinations such as London, Paris or New York, other cities on the eastern side of Europe are emerging. Here are three new MICE destinations in Eastern Europe whose reputation is on the rise!
The MICE market in Eastern Europe: destination Latvia
Located at 2h30 from Paris, Latvia is one of the most accessible MICE destinations in Eastern Europe. In addition to this, the environment is much more exotic than most European countries to which companies are accustomed. Recently opened to Europe, it has not lost its traditions. Its capital, Riga, is fascinating because it offers us a dive into its history.
It is therefore an ideal city for an incentive! Lose yourself in its old town full of charming houses dating from the 16th century, admire its impressive dome or have lunch on the banks of the Daugava River…
Good to know: Riga lends itself to many team building activities. Open-air museum, the capital offers many possibilities. Become a KGB agent during a stop in a former bunker, take a cruise on the city's canals, enjoy a tasting of Black Balsam, a typical Latvian drink… There is no doubt that Riga is a must-see city for companies looking for a MICE destination in the Eastern countries.
For a nature-oriented seminar, the beautiful Jurmala is located 25 km from the capital. True Latvian Riviera, Jurmala forms a succession of small fishing villages bordering long beaches of white sand, dunes and pine forests. There's nothing like it to "go green", especially in the heart of its spa.
Business travel to Eastern Europe: welcome to Estonia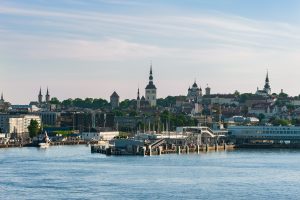 Estonia fascinates many companies looking for a MICE destination within the Eastern European countries and its attendance has been increasing for the last ten years. Starting with its capital, Tallin, a city with a thousand and one faces. The contrasts are striking in this chameleon-like city. The industrial architecture revisited by leading architects blends skillfully with the city's centuries-old history. The latter dates back to the 13th century! The remains of its medieval era can be seen in the heart of the old city and its old walls. Tinted with red tiles, they adorn the neighborhood with beautiful ochre hues. As far as accommodation is concerned, Tallinn has many hotels ranging from Bed & Breakfeast to luxury hotels (ideal for your conferences).
In addition to this historical visit, employees looking for cultural activities will be able to enjoy themselves. Indeed, Tallinn delights history and architecture enthusiasts, especially with the Kumu Art Museum. Voted European Museum of the Year in 2008, it traces Estonian art since the 18th century, offering a splendid perspective.
If you want to get away from the hustle and bustle of Tallinn, head to Tartu. The oldest university in the Baltic States, founded in 1632, is located here. It is also the starting point for the lakes Peipsi and Setumaa, magnificent green spaces. No doubt about it: MICE and Eastern Europe go hand in hand in Estonia!
Lithuania, the pearl of MICE
Like its Baltic sisters, Lithuania is opening up to the European Union. It is now an attractive destination for MICE in Eastern Europe. Its capital, Vilnius, has an immense cultural wealth. This has accelerated considerably since its qualification as European Capital of Culture in 2009. Vilnius is a city on a human scale, which means that most activities can be done on foot, without being bothered by the horde of tourists. Still little known to travelers, it offers a peaceful setting, far from the crowds of the big tourist capitals.
Stroll through its old town, a UNESCO World Heritage Site, with monuments dating back to the 13th century. Its winding streets and baroque architecture make it an ideal setting for an escape game or an immersive guided tour. You can also take a trip to Vilnius Castle, which can be reached by climbing to the top or by funicular. You will enjoy a magnificent view of the city!
Another curiosity is Hales, one of the oldest and largest markets in Vilnius. All in all, it is the ideal place to immerse yourself in Lithuanian culture and taste its traditional products. For this reason, the presence of a guide is recommended for a quality incentive. Don't miss to visit the numerous museums of the city, especially the National Museum of Lithuania. The latter will offer you an excellent discovery of the local heritage, which is still very little known outside of Lithuania's borders.
Eastern countries: new professional horizons
In summary, the emergence of this type of MICE destination in Eastern Europe offers you a new professional opportunity. To present your company as an innovative structure, in search of a new working environment beyond the traditional one.
At Autentik Events, we can help you to realize your seminar in one of these attractive and very preserved countries. We are convinced of the strong potential of Eastern Europe as a MICE destination! They offer a unique opportunity to carry out superb events in an extraordinary setting…