Corporate events are often organized in the spirit of the times, drawing on the latest trends to delight participants. You can also reward your employees or your best customers by organizing a seminar or an incentive out of time. For this, choose an enchanting setting, far from the bustle of our modern cities. The islands of the Var are ideal for this type of organization.
Porquerolles: heading for an idyllic destination in the Var
Give your collaborators an anthology seminar by choosing one of the many small islands off the Var coast. Near Hyères, Porquerolles is the largest of the three islands that emerge from the crystal clear waters. Known worldwide for the beauty of its beaches and forests, it is also appreciated for the animation of its marina. In this hamlet, several quality hotels have the necessary infrastructure to host corporate events. Combined with team building activities in the middle of nature, the stay promises great experiences.
The Paul Ricard Islands: the charm of the 1950s for a timeless event
Named in honor of the illustrious businessman, the Paul Ricard Islands are appealing for their typical charm. Their homes are reminiscent of the 1950s and guarantee participants a timeless getaway. The island of Embiez has a space dedicated to the organization of events. Offering a view of the port city of Six-Fours-Les-Plages, this site can accommodate up to 600 people. On Bendor, the atmosphere is more intimate. The two islands of the Var have in common the splendid sea view, the playgrounds and the proximity with nature. For example, organize a petanque competition in the shade of the pine trees for a team building with a southern accent. Or how about an orienteering course through the trails?
The islands of Levant and Port-Cros: in contact with nature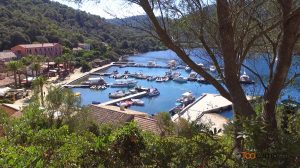 The two other islands off Hyères are Le Levant and Port-Cros. The vast majority of their territory is classified as a national park. The place is thus a perfect playground for the organization of a team building or an incentive far from the stress. In the heart of the maquis, facing the sea or in the medieval ruins of the Castelas, we redefine the group dynamic by drawing on the serenity of the typical Mediterranean landscape. On the beach, raft survival courses are a great team-building activity. Or organize courses in the heart of protected forests to identify the variety of trees, plants and animals that will mark the hikes. Back in the hamlets, set up a gourmet scavenger hunt and use the trophies for a cooking workshop.
Autentik Events is at your side to set up a program that will meet your company's expectations while guaranteeing a magical trip for your guests.