Classic, unusual, innovative or natural, the venues for seminars and corporate events are diversifying. To help you prepare your planning for 2020, here is our selection of trendy places.
Trendy places in 2020: unusual and atypical places
The trendy locations of 2020 show the willingness of companies to innovate for their seminars and team building activities. Redeveloped factories, art galleries and digital campuses are among the most coveted spaces today. You can also look for historical monuments and palaces to bring a touch of timeless magic to your corporate event.
When choosing these unique locations, make sure you have the necessary facilities to accommodate the public. It is also necessary to verify the necessary authorizations for the organization of the meeting.
Trend 2020: an original design
Trendy places will bet on an original design to break with the formality of the professional world. Host sites can be a dedicated location or a space on the work site itself that has been uniquely designed for the seminar or team building.
The size of the multi-purpose rooms and sports halls offers an infinite number of possibilities. For a day or an evening, the huge parking lots can also be transformed into spectacular places. The dressing of the place can be done with tags, colored fabrics or video projections. This projection, called videomapping, is the new trend to create a surreal world thanks to the colored and moving illusions that cover the walls.
Inspired by the American speakeasies of the 20's and 30's, Speakeasys are hidden doors that lead to an arranged place. By opting for a treasure hunt, the pleasure of playing is mixed with the pleasure of discovering the design of the place.
The culinary trend, inseparable from events
The pleasure of cooking is restored. A great way to motivate your employees is to gather them in a place dedicated to gastronomy. Young chefs are now offering traveling programs with tasting sessions, or learning workshops in unexpected locations.
A team building in a park can be an opportunity to discover vegetarian cuisine and its many benefits. Or we can organize a wine or cheese tasting session on a farm or in a field for a back to basics experience.
Traditional places reinvent themselves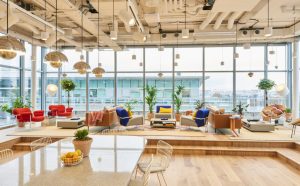 Among the trendy 2020 locations to consider for your seminars and corporate events, think of the traditional addresses. To cope with new designs and unusual places, the once austere rooms are being renewed. The meeting rooms are thus fitted out in a more modern start-up style and more favorable to exchanges. The design has been modernized and is modular. More and more often, coworking is put forward to highlight the collaborative spirit.
Autentik Events will accompany you and advise you to make the most of the assets of the place of your choice and make your seminar a unique event for your entire team.