Globalization has allowed many companies to establish themselves in several countries. While expansion is particularly advantageous for the economic development of the company, it is often difficult to ensure the cohesion of teams around the world, which is necessary to achieve a common goal. Rely on activities and events worldwide to motivate your teams.
New technologies put to use
Worldwide event animations are nowadays part of the managerial practices to federate the employees of different nations. High-tech novelties are a must for organizing incentive and team building activities. Mobile applications that can be accessed anywhere are generally used as vectors.
Launch online challenges to bring your teams together
A unique challenge for all your employees around the world! This is the strong idea of our technology partners who are now offering collective activities. The idea is to set a common goal that can only be achieved with the involvement of each employee. For example, a small sports challenge. Ask everyone to take a certain number of steps which will be recorded by a tracking application to allow the whole company to reach a pre-determined number. Health and well-being in common will then be the leitmotiv.
As part of a policy committed to protecting the planet, it is also possible to organize a collection of waste or polluting products. The measurement can be done according to the weight or volume collected. The international dimension of the company makes it possible to reach volumes that are difficult to imagine. This animation reflects a positive image of the organization and helps consolidate teams around the world around a common vision.
Host an international webinar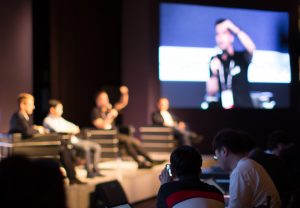 A well-organized webinar is just as effective as a traditional face-to-face seminar. For budgetary reasons or in the event of a global health crisis, it is impossible to gather the participants in one place. Boundaries can then be broken by setting up an interactive organization between several sites. Each locality will take part in the organization, taking care to emphasize the federative character of the corporate event.
In addition to the live broadcasting infrastructure, cameras will be able to capture the reactions and emotions of the different teams. It will be necessary to favour very large screens in order to guarantee a good visibility for all the participants. To reinforce theteam spirit and conviviality, it is recommended to set up a gourmet or playful meeting after the webinar where everyone can exchange in a friendly atmosphere. For example, a cocktail party in each branch or unit. The communication channel between the many sites will of course be kept open to allow participants to communicate despite the distance.
Autentik Events is at your side for the organization of a corporate event worldwide. From project management to the implementation of the necessary infrastructure, we offer a tailor-made program, perfectly adapted to your business objectives.