Sunny, full of history and culture, Portugal is an ideal destination to allow your employees to disconnect. Whether you want to organize a team building in a federative environment, organize a conference in an idyllic setting or simply organize an incentive to motivate your employees, Portugal is a place of choice. Spotlight on two key destinations for your event project.
Cascais: all the comfort and luxury of a seaside resort in the sun
Nestled at the southern tip of Portugal, Cascais blends the authenticity of traditional Portuguese villages with its white streets and seaside luxury, lined with chic boutiques and exceptional establishments. You can take advantage of a top-of-the-range setting to organize a seminar, while admiring the panorama which is offered to us, that is to say a succession of creeks and sublime beaches of blond sand. You can also choose to organize your seminar, conference or any other professional activity in front of this idyllic setting and, why not, taste the Portuguese gastronomy, renowned for its fine food and sea delicacies. Especially since north of Cascais is the Douro region, renowned for its Vinho Verde, a fresh, refined and bold wine. All in all, Cascais is a perfect destination if you want to offer your employees a setting where excellence and comfort go hand in hand.
Good to know: Cascais has several historical and cultural monuments as well as very pleasant natural settings. Do not hesitate to contact our teams, fine connoisseurs of Portugal, to learn more.
Sintra: between urban wonders and wild nature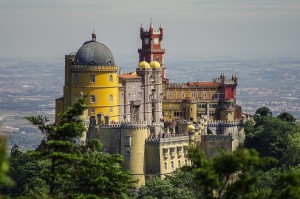 Pearl of Portugal, Sintra rises on a mountain covered with vast forests, forming a magnificent shade of green. It is not uncommon to see the sea mists surround the city, draping its perched castles, estates and palaces in a mysterious veil. It is in this paradisiacal setting with a myriad of parks and gardens that one can admire the diversity of this city influenced by Renaissance, Moorish and Mughal architecture.
As you can see, Sintra lends itself to exceptional events because it is possible to enjoy its dazzling establishments while marveling at its historical gems and lush vegetation. To realize your event in one of these buildings or close to nature, it is advisable to contact professionals giving you access to this type of place. We can help you to organize your company seminar in the heart of this secular city.
There are many other destinations where you can enjoy the Portuguese dolce vita during an event focused on nature, history, or other unusual settings to make your corporate project an exceptional experience. We are at your disposal to guide you in your choices!